In Linköping, Sweden a world's first Plantagon greenhouse for urban farming project has begun construction. The Plantagon, a creation of Swedish-American architectural design company Plantagon, is a spherical, vertical greenhouse that solves the need for uniform, sufficient natural light to provide even growth of vertically-farmed plants. The need for ambitious companies like Plantagon to prove concept with such a creation is imperative if we are to face the challenges of rapidly swelling populations across the globe.
In the Developing World, the predominant trend is one of more and more people leaving rural areas and farmlands for the cities — not much different than what has happened in the the US and Europe over the past 50 years or so. It is estimated that 80% of the world's population will live in or close to cities by 2050.*  Urban environments produce a lot of stuff (including pollution and garbage), but the one thing they don't produce very much of is food. Produce consumed by city-dwellers is still mostly grown in out-lying agricultural areas, or half-way around the world, and then shipped and/or trucked into these cities. In the process a good deal petroleum based fuel is consumed and CO2 emitted, making this practice anything but "green".
The solution is all in the design; the plantagon features a vertical, rotating "corkscrew" platform for the crops and is situated within a huge, curved-glass, geodesic spheroid structure. By offering the dual benefits of cost-cutting and elimination of transportation, these "plantagons" are envisioned to spearhead the green urban living movement of the future.
According to Plantagon, their urban greenhouse
"…will dramatically change the way we produce organic and functional food. It allows us to produce ecological [resources] with clean air and water inside urban environments, even major cities, cutting costs and environmental damage by eliminating transportation and deliver directly to consumers."
Although vertical farming concepts are nothing new, few if any have actually been built. The Plantagon is under way and soon we'll see first hand what the results are. Then, as critics are surely to speak out against it's design, resource consumption and the like, a better model can be derived and implemented in further installations.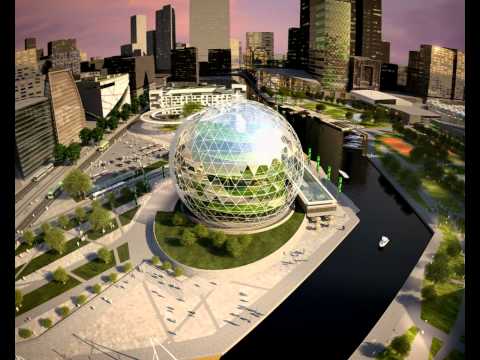 Source: Clean Technica (http://s.tt/12twE)